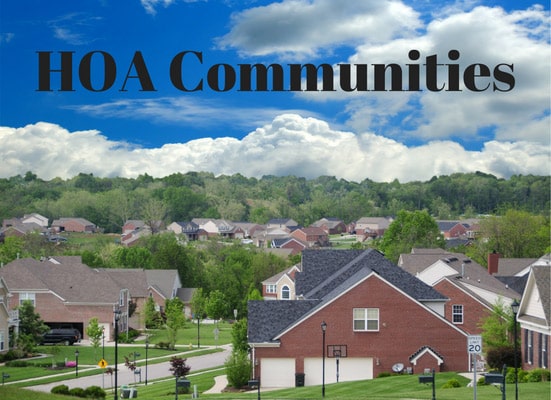 Home Owners' Associations, over the last half century, have become a part of the fabric of American life. About two out of three people in America now live under the governance of some sort of HOA or a similar governing body, whether they rent or own, live in a house, condo, or apartment. And in the future the percentage of people living in a HOA governed community is likely to go up, not down.
On balance, HOA governance can be a good thing… or sometimes, a pretty bad thing. It depends mostly on how the HOA is run and administered. We will have a look at the good and the bad of HOAs, and why real estate lawyers sometimes get involved between home owners and HOAs.
The Birth of an HOA
HOAs generally come into existence when an area is being developed. The developer creates and establishes an HOA thinking it will be attractive to prospective buyers. The developer then administers the HOA Colorado rules during the time when the homes or apartments are being built and sold. Naturally, the developer wants the community to be attractive so their project will be well received and the units or homes will be easily sold.
Understandably, developers create these HOAs in response to market principles that indicate there is a demand for uniform neighborhood/community standards. Clearly, many–and probably most–people prefer the security of knowing that their investment is protected from any shenanigans undertaken by an errant neighbor–and that they will have some recourse when dealing with any neighbor that impacts them adversely. The HOA is that enforcement mechanism.
After the development is largely built and sold the developer turns the HOA administration over to someone else. Generally this will be the Board of Director made up of local homeowners. Sometimes the Board directly manages the HOA, but often the Board seeks the involvement of a management company that specializes in managing HOAs. The board serves as the liaison to the community and the management company handles the day-to-day operations and enforcement of the rules. That way, individual neighbors are one step removed from having to enforce the HOA rules, which might strain relationships, or even open someone up to retribution.
The documents you should be sure to review before purchasing are:
Articles of Incorporation (CC&R's)
By Laws
(Besides the specific documents relating to the HOA, make sure you have reviewed all of these documents related to a real estate purchase.)
What are they good for?
HOAs ostensibly exist for two reasons. First, to protect the value of the properties in the HOA governed community. It's no mystery that a neighbor who lets his house-paint peel, or his lawn go to seed, or who piles up junk in his front yard will impact the marketability (and thus, the value) of the homes in the community—-whether its your home or your neighbors.  The list of things someone could do that would negatively impact your property if there weren't any rules is unending. HOAs try to foresee these issues and create rules that prohibit them–and create uniformity.
It's normal for HOAs to have clauses that require proper lawn maintenance, prohibit junk cars from being parked and left to rust in plain sight, or mandate the placement of sheds, pools, or other structures added to the property. Basically, in a HOA community any cosmetic feature or factor that impacts the appearance of the neighborhood is usually governed some sort of rule or mandate. The reason is simple, the HOA is empowered to keep the neighborhood looking good, thereby improving the desirability of living there.
Likewise, HOAs sometimes govern common property or areas. If the developer has set aside some space for a park, or a community pool, a share of the cost for those amenities is built into the purchase price of every home those amenities serve, and every home owner has an interest in them. But someone has to pay for the upkeep and maintenance of those amenities, and that money usually comes from the HOA fees or monthly dues. The HOA enforces community rules for those common areas as well.
In some cases, HOAs also contract for neighborhood services, such as trash collection or snow removal or general mantenance on the common areas. This alleviates the need for an individual homeowner to undertake these mundane duties, and it also ensures that these tasks are uniformly accomplished throughout the entire community rather than relying upon each and every homeowner to perform them on their own.
When you live in a neighborhood governed by a homeowners or condominium association, you might not have the final say over the color of your house, the size of your pet or how you decorate for the holidays. If you don't like the association's rules, there's little you can do short of suing or moving out.
"Most associations work reasonably well most of the time, but there are tons of examples of really troubling rules," says Evan McKenzie, associate professor of political science at the University of Illinois at Chicago and author of the book "Privatopia: Homeowner Associations and the Rise of Residential Private Government."
Among other actions that have aroused controversy, associations have banned owners from renting out residences and have forbidden inflatable lawn ornaments at Christmastime.
HOAs and condo associations are bound by state laws. Florida, Nevada and Virginia have ombudsmen to hear complaints. In the rest of the states, the state government plays a minimal role, McKenzie says.
Restrictions on house colors, pet weights and landscaping choices are found in the association's covenants, conditions and restrictions, or CCRs. The CCRs are filed with the county clerk and are public record.
HOAs usually mean well
Most association rules are well-intended. You don't want neighbors parking an RV in the driveway or painting their home bright purple.
But not everyone finds the rules reasonable, and disputes have arisen over CCRs that ban exterior Christmas lights or allow only white lights. Some associations enforce pet-weight restrictions so zealously that they put dogs on the scale.
Another contentious issue is association amendments that ban home and condo owners from renting out their dwellings. For strapped owners, leasing to tenants could mean the difference between foreclosure and keeping the property.
Repercussions abound from ignoring the rules
Frustrated? Painting the house bright pink isn't an option, unless you want to face fines and a potential lawsuit. The best defense against onerous restrictions is to read the CCRs before buying the dwelling.  Then decide if you can live comfortably within the rules.
If you are looking to buy and there is a dumb restriction, don't buy there. Don't move into a community with the restriction and think it won't apply to you.
Problems with HOA
Some developments give the HOA and the HOA attorney more enforcement rights than others. Among these might be the right to:
fine any owner violating a covenant, rule, or regulation (for example, you may be assessed a fine each day you keep the metal fence up)
enter upon an owner's property to determine whether the owner is breaking any rules (the HOA could come onto your land to check out what your fence is made of)
enter upon an owner's property to remedy a rule violation (for instance, the HOA could remove your metal fence)
suspend the rule-breaking owner's right to use the common facilities (you may not be allowed to use the fitness room, for example, until you pay any fines and take the fence down)
sue an owner who violates any restriction, covenant, or rule, (watch out; you could end up in a lawsuit and ultimately with a court order requiring you to take down the fence),
hold the owner responsible for any attorneys fees or costs incurred by the HOA in enforcing a rule, (if the HOA is successful, you may be in for more than just the cost of removing the fence), and/or
place a lien on an owner's property (if you owe enough in fines, the HOA might be able to put a lien on your home, meaning that your title to the property won't be clear until the debt is paid).
What laws govern HOA's and the relationship to homeowners?
HOA's are governed by both state and federal law.  In Colorado, the Colorado Common Interest Ownership Act ("CCIOA") which applies in its entirety to all associations created after July 1, 1992. In addition, certain portions of CCIOA apply to associations created before July 1, 1992. Specifically:
Colorado State Laws:
Nonprofit Corporation Statutes generally apply to any incorporated Common Interest Community. In Colorado, look to the Colorado Revised Non Profit Corporation Act (" Non Profit Act") which applies to all Colorado Non Profit corporations.
The Colorado Common Interest Ownership Act ("CCIOA") which applies in its entirety to all associations created after July 1, 1992. In addition, certain portions of CCIOA apply to associations created before July 1, 1992.
The State of Colorado created the HOA Information and Resource Center in 2010. The Center is managed by the Division of Real Estate (DRE), a division of the Department of Regulatory Agencies (DORA).
The Center collects information from HOAs via registration and from inquires and complaints received. The Center also provides information to homeowners, HOA boards, declarants and other interested parties about the rights and responsibilities of HOAs set forth in the Colorado Common Interest Ownership Act (CCIOA) and other applicable state laws.
In addition to the annual Secretary of State registration, HOAs are required to register annually with the Colorado Division of Real Estate. An HOA that fails to register, renew its registration, or pay the required fee may be precluded from imposing or enforcing a lien for assessments.
The community association manager licensing program, as promulgated by the Colorado Legislature in HB13-1277, effective January 1, 2015, encompasses the licensure of professional managers that manage various types of common interest communities, including, but not limited to residential, mixed-use, commercial, timeshare and condo hotel communities.
Colorado Fair Housing Act, Colorado Fair Debt Collection Practices Act, & the Solar Panel Statute.
What are my HOA rights?
The bylaws and CC&Rs commonly include procedures the HOA must follow when taking any action to enforce the rules. You need to make sure you are familiar with these provisions. For example, sometimes a violation must be discussed at an HOA board meeting before the HOA can take any action. Usually the HOA must provide written notice to an owner of any alleged violation, and allow the owner time to cure the violation, before fining or suing that person.
Regardless of the procedures required in the CC&Rs and bylaws, most HOAs realize it's better to resolve problems with owners amicably if possible, and will not immediately jump to file a lawsuit.
However, rules do get broken and you may end up in a dispute. If you do, you will want to determine your homeowners rights against HOA and if the HOA is undertaking action against you within the confines of the procedures that are listed in your CC&Rs/bylaws. If they are, you may not have grounds to dispute the action. HOA lawyers can be a resource to you.
If you feel that the HOA is singling you out, because many of your neighbors have violated a particular rule and it hasn't been enforced in years, you should bring this up in discussions with the HOA. If you believe the HOA has not followed the required procedures, or are unsure what your rights are under your state's laws, you may wish to contact an attorney in your area experienced in HOA matters to assist you.
In the end, it is in your best interests to follow the rules. That is why it is crucial that you review the CC&R's and bylaws prior to purchasing a property. In the case of purchasing real estate with a homeowners association, you should not rely on the adage, "ask for forgiveness after the fact."
Download 7 Point Checklist
for Signing A Lease or Contract
There are a variety of resources available in Colorado to assist you with issues relating to HOA's.
This information is provided for educational purposes only and cannot be taken as legal advice. Neither I, nor the other attorneys at Evans Case, LLP, nor any person or entity that I or any such firm represents, has agreed to enter into any agreement, or to incur any obligation, nor has any attorney/client relationship been created by e-mail, fax or other electronic means unless specifically and expressly so provided. No attorney/client relationship exists in the absence of an executed engagement letter or fee contract.