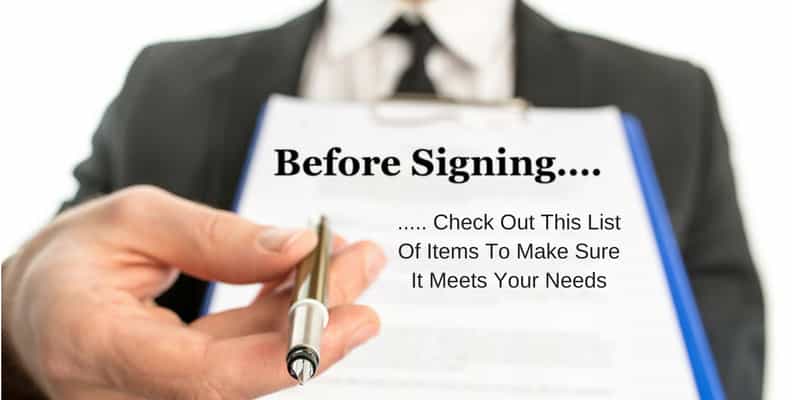 The market for rental properties in Colorado is tough and competitive. If you want to avoid the pain of signing on to a Colorado residential lease agreement that may not be right for you, be thorough in getting the answers to these questions. Imagine the pain of needing a Colorado real estate attorney to help you deal with a bad residential lease agreement? Do your homework.
Here's a list of the things you may need to consider before signing a real estate contract or lease:
Is the property being rented by an individual or company?
Does the property owner or management company have a web presence? Do they customer reviews available? How many and how recent?
How many properties do they manage?
What is your need for length of renting? Do they have lease term options and what are they?
I would like to rent month-to-month is there an additional fee?
What is included in your rent?
How is rent to be collected–and on what day of the month?
When the lease is up, will it automatically convert to a month-to-month agreement, or will I be obligated to sign a new lease?
Is there a fee for early termination of lease? (find out the 11 key terms you should see in a rental agreement)
What personal documents will you need from me prior to signing of the lease?
Is there a minimum credit score to rent an apartment?
Am I required to have renter's insurance and if so are there minimum coverage's required?
If utilities are extra or other services are extra, what is the historical cost for these services for a unit like the one you are considering?
What is the process for renewing the lease?
When and how do they inform you of any rent increase?
What are the terms to terminate a lease? Are there provisions for emergencies (loss of job, need to relocate to take care of family member due to health..)?
If a tenant moves out prior to the 1st of the month will tenant be charge the full amount of rent?
What means are provided for paying rent? On-line, check, money order (avoid cash unless you will get a written receipt)?
What is policy on pets?
How much is the monthly fee to keep a pet?
Can you sublease and under what conditions?
Is it difficult to add someone to the lease once it has been signed?
Is parking assigned or first-come?
Do you have to pay for parking?
Where do my guests park?
How much is the security deposit?
Do they require a background check?
How much is the application fee?
When will I get my security deposit back?
What is withheld from my security deposit? Click her to check out what Colorado law allows and the process.
Monthly rent; what is the late charges date? (i.e. Rent due on the 1st the 6th day of the month)
Are there any move-in specials?
What is the lease start and end date?
Which fees are non-refundable?
Have there been pest problems? How to they handle pest control?
How are maintenance request handled?
What is the average time for responding to a maintenance request?
If you are looking in an apartment complex, seek to find a random tenant and inquire what they like and don't like about living there.
Does apartment have AC (find out what type of system being used; turn it on during your walk thru and check vents for proper air flow)?
Can I have a washer and dryer?
Does the unit come with a washer and dryer?
Are there washer and dryer hookups?
What if I don't like my future neighbors?
What do they do to update or upgrade the unit between rentals?
Is there a process to submit complaints about management or maintenance, if I have one?
How does the management company or owner communicate with residents or tenants?
How many complaints have been filed against the landlord or the management company?
What modifications or alterations can be made to the property? What is the process for approving?
Can I paint the walls or ceilings?
Does the property come with a fire extinguisher?
How often are the smoke alarms tested?
Does apartment manager live on site?
Are the office hours user friendly?
How is mail delivered to the apartment (what happens to large packages and registered mail)?
How is trash handled for large items such as a sofa, mattress, or computer desk?
What storage space is available?
How good is the cell phone reception from my this area?
Is there a place for tenants to wash their car?
What are the seasonal challenges for this property (i.e. it rains and apartment floods, pipes freeze during winter)
How many windows are there:
Do all the door and window locks work?
How many electrical outlets in each room?
Is there a BBQ grill on site?
What role does the landlord play if mold is found in apartment?
Does carpet need to be clean?
Is there a fitness center?
What are the hours of operation for the fitness center?
Has there ever been a fire/flood in this property?
I've been locked out of my property is there a number to call to be let back in?
Is it safe to walk or run in the neighborhood at night?
What are the public transportation options in the area?
Will the location of the property affect your car insurance rates? Other insurance rates?
Is the stove gas or electric?
Can I take pictures during tour of property and apartment?
Are there cracks in the walls or ceilings?
Is there a sprinkler system for apartment?
Is the apartment furnished?
Is the water pressure normal in the kitchen and shower (also check to see how long it takes water to turn hot)?
Do all doors open/close easily?
Where/when is the trash collected?
You have furniture: How wide are your doors (make sure it will all fit)?
Do you have registered sex offenders living in this complex?
Do policeman live in the complex?
Are there security cameras or a security system in place?
Have breaking and entering ever been reported for this property?
Does the front door have a deadbolt installed?
What security features are installed for this community?
Does front door have a peep hole? (rare not to have but worth checking)
What are your responsibilities as a renter?
What are the responsibilities of the owner to you?
What is your emotional reaction to the property?
Looking for a sample residential lease agreement? Click here.
This exhautive list will help you make sure you're making the right decision about your property.
Whether you are entering into a real estate contract or a short or long-term lease for residential or commercial property, it's important to step back and take a moment to consider a wide range of details about the property you're interested in.
For more guidance on evaluating whether or not you're ready to sign that real estate contract or lease, check out our helpful guide.